Artist Betsy Roeth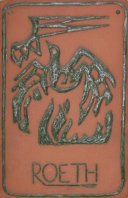 Artist and teacher Betsy Roeth creates ceramic sculptures, paintings and mixed media work in her Aptos studio.
After graduating from U.C. Berkeley with a degree in Decorative Arts, Betsy continued her studies in the States and abroad. While living in India for two years she studied with ceramicist Sadar Gurcheran Singh, a colleague of Hamada and Bernard Leach. Upon returning home Betsy did graduate work in painting and silk-screen with Sister Corita, and ceramic mosaics with Sister Magdalene Mary, at Immaculate Heart College.
Betsy helped transform the Fisherman's Wharf and Ghiradelli Square area in San Francisco with commissions of colorful banners and flags. She created banners for Southland Shopping Center and the Mayfield Mall as well as for private clients.
In addition to collections in the greater Bay Area and the north and central coasts of California, Betsy's work is in collections in Dallas, New York, Washington State, and San Jose Costa Rica.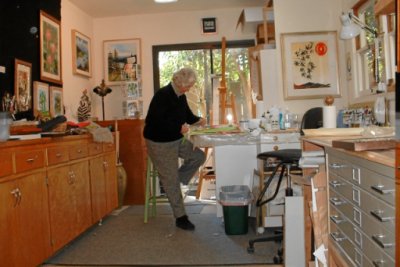 In her Aptos studio Betsy teaches ceramics, sculpture and painting to both children and adults.
---